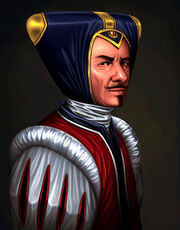 In Warlock 2, The 
Grand Librarion of Dauros
 learned all spells at the end of Warlock 1, becoming The United One. He subjugated former Great Mages, killing some in the war, and forcing others to become his Lieutenants.

See also: Great Mages (Warlock 2) , Great Mages (Warlock: Master of the Arcane)
Lieutenants
Aftermath of Warlock: Master of the Arcane
After the Grand Librarian achieved the Unity Spell, factions tried to remove him and bring back the council.
Ad blocker interference detected!
Wikia is a free-to-use site that makes money from advertising. We have a modified experience for viewers using ad blockers

Wikia is not accessible if you've made further modifications. Remove the custom ad blocker rule(s) and the page will load as expected.